Journal of Medical - Clinical Research & Reviews (ISSN 2639-944X) is an international, open-access with 0.34 Impact Factor, journal give special importance to publish research and reviews in the fields of general & scientific medical research and clinical practice. It also publishes valuable studies in Cardiology, Neurology, Obstetrics and Gynecology, Surgery, Internal medicine, Orthopaedics, Infectious diseases, and HIV/AIDs, Oncology and all related areas which come under the journal scope.
Journal of Medical - Clinical Research & Reviews requests and encourages researchers to submit their brilliantly orchestrated topics or recent developments in the field of Clinical and Medical areas in the form of Research and Reviews.
Our journal strongly supports the Open Access initiative. All published articles will be assigned DOI provided by Cross Ref. Journal of Medical - Clinical Research & Reviews will keep up-to- date with the latest advancements in the field of medical research. Abstracts and Pdfs of all articles published are freely available to everyone immediately after publication.
Authors are requested to submit manuscripts as an e-mail attachment to the Editorial Office at editor.mcrr@scivisionjournals.com.
Imfact Factor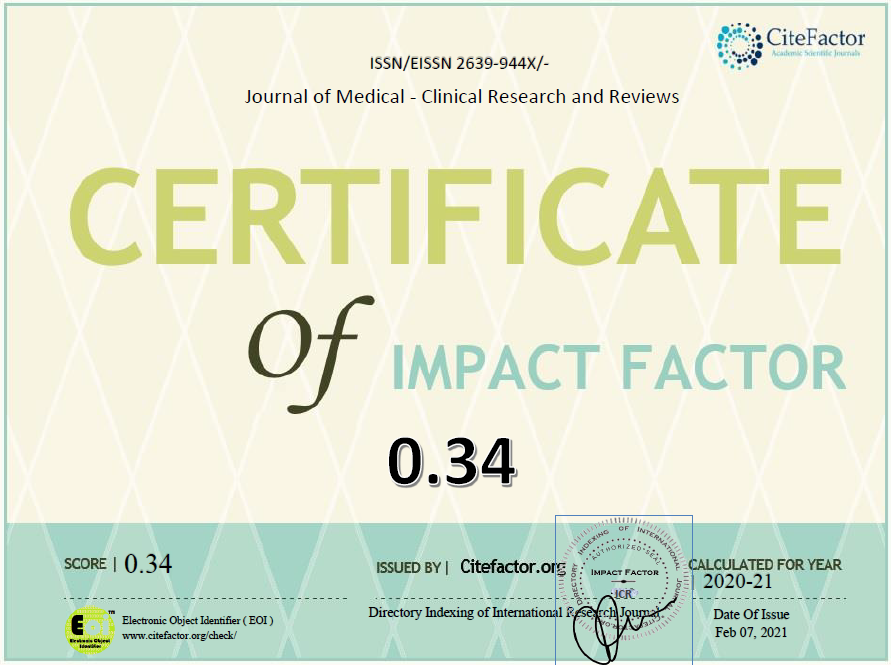 The Effects of Post-Resuscitation Sepsis Management on Length of Stay and Total Cost of Care among Patients with Severe Sepsis in the ICU Setting

Authors: Gilbert Andrew Valasquez, Teri M. Kozik, Jacqueline DeMellow, Martha Engaling, Julie Ding, Scott Neeley.
Candidemia Among Mycobacterium Tuberculosis Patient Attending Aminu Kano Teaching Hospital

Authors: Sule H, Kummurya AS, Sarki FM.
New Advances in the Fertility Awareness Method and the Treatment of Stress Urinary Incontinence (SUI)

Authors: Shihata Alfred, Brody Steven A, Linderoth Birgit, Julia Barrett- Mitchell.
Short-Term Outcomes of Treatment of Open Fracture of Long Bone Using Surgical Implant Generation Network Nail at Kumi Orthopaedic Center, Uganda

Authors: Ekure John, Akellot Daniella, Amuron Naomi.
Classification of Primary and Secondary Dyslipidemias Revisited

Authors: Anita L. R. Saldanha, Ana Paula Pantoja Margeotto, André Luis Valera Gasparoto, Abel Pereira, Tania Leme da Rocha Martinez.